2000-2008 Biography
• Cui Jian was invited to present himself at the press conference and shoot a film of 《Chengdu, I Love You》, December 23, 2008. Cui said that he wants to describe a unique story about the love in the city of Chengdu and represent the moving sight in Whenchuan earthquake by the video.
• Cui Jian was invited to present himself at "Goethe Night"—20th anniversary of the Goethe-institute, November 1, 2008. Cui was awarded as "Goethe Angel" and led the band giving an exciting performance to the audience to celebrate the anniversary.
• Cui Jian and the band participated in the Shanghai International Art Festival, October 26, 2008.
• Cui Jian and the band participated in the 5th China-ASEAN Expo and the opening ceremony of the 10th Nanning Festival of International Folksong Arts which was held in Nanning, Guangxi province, October 22, 2008.
• Cui Jian and the band participated in the International Festival at Longshui Lake in Chongqing Municipality, September 29, 2008.
• CUI JIAN LIVE -August 23, 2008 Beijing Xin Haoyun
• July 25,2008 Cui Jian and his band attended the FMM Sines .Show details
• "Get Over That Day"——Benefit Performance for Earthquake Relief
In front of such s tragic earthquake disaster, maybe the only matter what we can do is stretching out a helping hand and showing loving heart to help those homeless people. Let's use our strength to help compatriots in Sichuan to get over that dark day!
"Get Over That Day"——Benefit Performance for Earthquake Relief, which is co-sponsored by Cui Jian and CRI (CHINARADIO INTERNATIONAL) and jointly organized by HIT FM, Beijing East and West Music Art Production Co. Ltd., Star Live and China Charity Federation was held at Beijing Star Live Concert Hall on May 22, 2008. Cui Jian and the band, Wang Feng, Zheng Jun, Lao Lang, Ye Bei, Ai Jing,Zi Yue band, Lonely China Day(Ji Mo Xia Ri) band and Sambasia Drum Team gave a soulful performance together which lasted for more than four hours. The benefit performance raised total 415,810 yuan RMB which includes 364,600 yuan RMB tickets income and the donation from the audience and guests. All income and donation will be donated to disaster area through China Charity Federation
• Cui Jian and the band performed passionfully at Stanford University May 4th, 2008. Although there are only 1,000 seats at the theater of the University, about 1,500 fans assembled outside, even the aisle and gangway were full of fans. The atmosphere of the performance was very hot; all of the audiences were watching the performance on their feet. After three encores, Cui Jian greeted the students in the end," If I could be as young as my twenty years ago, I wish I could come to study at Stanford University" which won a storm of applause.
• Cui Jian and the band performed at San Jose Convention Center, South Hall in Silicon Valley. This is the first time in four years after Cui Jian once came to North America and the first time he held concert in San Francisco Bay Area. There were about 6,000 fans at the scene; a few Chinese even wore red cloth. When Cui Jian changed one of the classical lyrics of Chinese "1, 2, 3……"in "Rock'n'Roll on the New Long March" into English "one, two, three……", the whole audiences joined in chorus. There were tears in some people's eyes when Cui Jian sang "My body is here/ where are my ideals?"
• "Evening of The Times", Cui Jian's Concert come to the first stop of the National Tour cities——Chengdu, April 26, 2008.

. Straightforward, profound, and each note was filled with the power of hitting soul. "Evening of The Times"——Cui Jian's concert presented at Sichuan Gym in Sichuan province. The rock and roll he brought still like a knife, the fans at the scene were extremely excited. In the three hours long performance, someone was waving a red flag all night long. The performance won thundering applause and Cui Jian gave twice encores at the request of the audience. Li Donghua, Olympic champion, as the important "element of Chengdu", also brought a lot of surprises for the fans!
| | | |
| --- | --- | --- |
| • Evening of the Times 2008——Cui Jian's personal concert which is also the first concert in Beijing and 2008——the Olympic year, showed at Beijing Workers Palaestra passionately on January 5 evening, 2008. Cui Jian syncretized the Brazilian Samba and modern dance together in his concert which had aroused strong reaction from audience. Some directors such as Jiang Wen, Gu Changwei and Zhang Yang etc, were presented to boosting him. In the almost 3 hours performance, the scene that the whole audience sang all together appeared time and again. When Cui Jian performed his classical songs such as "A Piece of Red Cloth", "Greenhouse Girl", "Let Me Go Wild in the Snow" and "Fake Monk", it is nearly ten thousand audience sang in chorus. The atmosphere arrived at acme when the tune of "I Have Nothing" sounded and Cui Jian returned to stage and at the same time, the entire audience seethed with excitement. Twenty-two years ago, Cui Jian stood at the place which is just as same as today's——Beijing Workers Palaestra and sang the same song——"I have nothing" to marking an epoch in Chinese Rock 'n' Roll. This is the real great significance of such concert. "Starting from scratch" at the initial place, undoubtedly, Cui Jian is showing his great resolution and belief of marking a new epoch to the world. | | |
•

December 1,2007,Cui Jian invited to attend Awards evening of the "Chinese Culture" Personality of the Year which was hosted by "Oriental Morning Post" in Shanghai. Cui Jian won the Special Award of Music Culture, and his passionate performance with the band showed the charisma of the real music scene for the audience.
•
Cui Jian and the band participated in JZFestival which was launched at Tong Yuefang in Shanghai on 7th Oct. 2007.
• Oct. 6, 2007, Cui Jian and the band attended Korean Festival at Seoul, Korea.
• Cui Jian and his band participated in the 2nd Snow Mountain Festival which was launched on 4th Oct, 2007 at Lijiang in Yunnan province. Five years has passed since the 1st Snow Mountain Festival launched in 2002. Last time, as an organizer and music director, Cui Jian has made a good beginning for the festival and obtained good reputation. This time, Cui Jian express that he would like to be a pure performer and he will pay attention to essential of music.
• Cui Jian was invited to attend a program Behind the Headlines with Wen Tao(锵锵三人行) of Phoenix TV on 13th Sep 2007.
•

Cui Jian was invited to attend the press conference of 2007 Beijing Pop Festival on 30th July, 2007. And he gave an exciting performance in the festival on 9th Sep evening.. The 2007 Beijing Pop Festival featured the best ever lineup to play: "Nine Inch Nails", the world's top band; "Public Enemy", the greatest hip hop group in history; Marky Ramone, the only surviving member of the band "Ramones"which is the originator of the current wave of popular punk; "New York Dolls", the pioneer of gorgeous rock style; Brett Anderson, the frontman of the "Suede", etc.. Cui Jian expressed that it would be a good chance to let international musician know about Chinese rock.
• On the night of July 28th, 2007, Cui Jian and the band attended Silver Sand Beach Rock Festival. Address: Yueyang, Hunan.
• July 8, 2007 evening Cui Jian and his band participated in the 8th Gongliao Hohaiyan Music Festival and gave a grand finale performance. Taiwan Color Music who is the sponsor had invited Cui Jian to attend this festival for eight successive years. With all the twists and turns, this year the formality was gone through finally and Cui Jian was invited successfully. The day of performance with thunderous applause of the whole audience, Cui Jian gave a passionate performance more than one hour. The excited fans had begun to sway their bodies along with the music and the last song "Nothing to My Name" was became the chorus of the whole audience which was quite a shocking scene. When the performance ended, Cui Jian came on stage once again with the continuous encore and sang "Solution" and "Greenhouse Girl". With the bandsman he said "We love Taiwan", which painted a perfect ending for the performance.
• July 4, 2007 Cui Jian and his band attended the Opening Ceremony of International Women's Football Tournament 2007 which was held in the Olympic Sports Center in Shenyang.
• June 22 and 24, 2007 Cui Jian and his band attended MTV-MOTOROKR concert which was held by the global MTV Music Television and MOTO jointly. This concert took "be original, original singing and original sound" as the norm, and resisted Lip Syncing resolutely to realize the nature of "The return of music".
Address: Yizhong Stadium (on 22nd evening), Qingdao; Sunny-City (on 24th evening), Chengdu
• June 2, 2007 Cui Jian and his band were invited to participate in "The night of Dunhill" party. Address: 798 Arts Center, Beijing.
• Michael Learns To Rock pays tribute to Cui Jian by reproducing English version of Cui Jian's song <I Have Nothing> in 2007. click in
• "Shanghai Story"– Cui Jian Unplugged Live
Live!@SGA – Contemporary Classical Series: 8pm, Friday, June 1st, 2007 (Invitation only)
• March 25, 2007 Cui Jian and his band attended <Super Concert> of Hunan TV: Sing for the Olympics and Light the Holy Fire. They gave an exciting performance to welcome the olympics.
• 20:30, March 19, 2007 Cui Jian attended 12nd Hong Kong Independent Short Movie Ceremony
• Jan.29,2007, Cui Jian and his band "Get over that day". Address:JZ Club, Shanghai
• Dec.31, 2006, Cui Jian and the band gave a special concert! Venue: Base Bar (Nanshan),Shenzhen
• Dec.30, 2006, Cui Jian and the band attended the Glorious Ceremony of China's Ten Years' Recreation to be held in Tianhe Gymnasium in Guangzhou.
• Dec.24, 2006, Cui Jian and the band gave Christmas rock & roll performance at Xi'an Datang Furong Garden.
•

Dec.18, 2006, 2006 Tom online glorious ceremony of "Internet·Recreation·Heroes" Gathering was held at Beijing Exhibition Theater.Cui Jian was awarded the Mainland Strength Male Singer of the most popular singers.
• Dec.17, 2006, Cui Jian and the band gave a thrilling rock & roll performance at the Funiu mountain ski resort, Luanchuan, Luoyang.
• Notice: Cui JIan's open air concert Get Over That Day which was planned to be held on October 6 in Beijing is postponed for some reasons. For the revised time, please pay attention to our notice on this website. We feel terribly sorry for any inconvenience it may cause you.
•
On October 3, 2006, Cui Jian and his band attended First Rock Gathering of China which be held in Zengcheng, Guangdong province.
• Sep.12,2006, at the 2nd session cultural festival of"Sound of Asia" hosted in Guangzhou, Cui Jian ranked among the "top ten tech raider". And his rock song "City boatman" was awarded Excellent Recording of Musical Works.
• August 12,2006 Cui Jian and the band attended the Opening Ceremony of the 16th Qingdao International Beer Festival.
• July 29,2006 Cui Jian and the band attended Night of Chinese Acoustic Music. Cui Jian's music was performed with acoustic instruments.
• July 21,2006 Cui Jian and the band attended South China Rock Festival hosted in the Window of the World in Shenzhen. During the performance, some excited fans couldn't help running onto the stage on the purpose of
embracing Cui Jian. After nearly an hour's exciting performance, Cui Jian finished the concert with Wild in Snow. But then with the strong demand of encore, he sang I Have Nothing together with the fans. After that, Cui Jian and the band members bowed to the audience hand in hand.
• On the night of July 15th,2006,Cui Jian and the band gave an unplugged live show in Beijing Starshine, where over 1000 fans vividly experienced the powerful music of Cui Jian and the band. The whole 2-hour concert was wonderful: from the first song <Mr.Red>, the fans had begun to rock with Cui Jian. The atmosphere became hottest when it came to <Fake Monk> and <Wild on the snow>.All the fans sang with Cui Jian,waving their hands and swaying their bodies. Finally thanks to the passion of the fans, there were altogether four encores.
• June 18th, 2006 Cui Jian and his band attended "If The Twenty Years Came Again" hosted in Shenyang. Address: Trainhead Stadium, Shenyang (photo:Liloli)
• Cui Jian Rock On Live 2006

May 24th, 2006 in the evening, Cui Jian and his band gave a small concert called "Cui Jian Rock on Live 2006" in HK, which was played by unplugged. As the band of highest quality in China, Cui Jian and his band conquered the whole audience by their delicate performance.
Address: Hard Rock Cafe, HK
•

4pm, May 15th, 2006 Cui Jian presented himself as a guest in the interview room of Yahoo, talking with the web acquaintances about his feeling and experience during the twenty years when he devotes himself to the rock music
•
April 22, 2006 Cui Jian Band LIVE ,Jin chi niao Bar, Xi'An.
• April 8th, 2006 With the invitation, Cui Jian attended Rolling Stones's concert in Shanghai. When the music of the classic song of Rolling Stones Wild Horse started, the honored guest Cui Jian, with his guitar, sang the song together with Rolling Stones. After that, Cui Jian said excitedly, " This year is the 20th anniversary of China's Rock' n Roll. .I'm very grateful that Rolling Stones has come. I've made an appointment with them. They will come back to China and we will meet in Beijing!"
| | | |
| --- | --- | --- |
| • April 2nd, 2006 Cui Jian attended the 6th Pepsi Top Music Awarding Ceremony hosted in Beijing Exhibition Theatre. When he was awarded as the Best Rock Musician, all the artists stood up applauding. Cui Jian said that he hoped there would be awards for musicians on live music. | | |
•
March 24, 2006 with the invitation of IFPI(International Federation of Phonogram and Video Producers), Cui Jian attended Awarding Ceremony 2006 of IFPI HK Best-seller Records. As the specially-invited guests, Cui Jian and Huang Guanzhong (Paul) co-peformed four songs. Paul said that he got to know Cui Jian as early as eighteen years ago when Beyond performed in Beijing in 1988. After that they sometimes happened to meet each other on the backstage but never had the chance to sing in chorus. So this was the first time for him to cooperate with Cui Jian. He greatly appreciates Cui Jian, the big brother of Chinese rock and he regards Cui an avant-gard musician. During his stay in HK, Cui Jian also took part in the publicity of his album "Show You Colour"on 7th April.
• Jan.10, 2006 The first movie of Cui Jian, which is a brief movie of two episodes lasting 7 minutes, had its
premiere in a club in Beijing. And on the same day it was broadcasted online in www.jeboo.com. In the premiere, Cui Jian said,"I hope to make powerful works. And I hope my works can make people become aware of and change the indifference to the mossgrown ideas about the impassible life.click in
•

Jan.6, 2006, Cui Jian and his band attended 2005 "Internet·Entertainment·Heroes" Awarding Ceremony of Tom Online's Honor Carnival, in which Cui Jian was awarded as "the Most Qualified Singer for Concert". In the ceremony, Cui Jian sang Mr.Red and Beijing Story, greatly warming the atmosphere. Cui Jian, who expressed his persistance in "real singing", hired a professional sound mixturer to take charge of web live broadcasting of this performance.
• On Dec.2, 2005, Cui Jian presented himself in the press conference of the movie The Unique Story. As the director, he is expected to direct a 3min-lasting story, which is entitled as The Years of Repairing Maidenhead and will be shown on the web in the end of this year.

• Cui Jian's Concert in Nanjing Dec.3,2005 Wutaishan Stadium, Nanjing

On the evening of Dec.3,2005, Wutaishan Stadium in Nanjing witnessed Cui Jian's Special Concert—"Dream in the sunshine". It was his first time to perform in Nanjing in the past 13 years. With strong enthusiasm and surrounded by Cui Jian's overwhelming music, over 6000 old and new fans experienced the wild feeling. Thunders of applauds and hails were through the whole concert. At the end of the concert, nearly all the spectators stood up, rocking at the rhythm of the music.

On Nov.15, Cuijian's solo concert and press conference at NanJing

• On the evening of Oct.11,2005, Cui Jian and his band performed in the 2nd Grand Ceremony of Asian Music, which was held in the Society Stadium in Pushan, Korea.

Once Cui Jian showed up on the stage, the atmosphere of the whole stadium was full of zenith. Two songs: "Beijing Story" and "Dancing across Line 38" were dedicated by Cui Jian and his band. The fans rocked with the music, making the atmosphere impressively enthusiastic. When Cui Jian saluted in Korean to the audience, telling them that his mother was born in Pushan, another hot wave was raised among the fans: they hailed "I love you" in Chinese altogether, which overwhelmed the whole stadium.

• "Rock to Lasa"Nov.4, 2005 "White Snow Pile" Music Pub, Tibet
| | | |
| --- | --- | --- |
| For years, Cui Jian and his band have put their foot around the whole country as well as over the world. This is the first time that Cui Jian and his band performed in the field of Tibet, bring the Tibetan fans the most direct, the most authentic and the most heartquaking rock music and new culture! | | |
• On Oct.29, 2005, Cui Jian Band LIVE , JZCLUB, ShangHai
• On Oct.27, 2005, Cui Jian Band LIVE , Gunjudibar, ShenZhen
• Cui Jian's Solo Concert in Beijing – "Dream under the Sun" September 24, 2005, Capital Stadium, Beijing
| | | |
| --- | --- | --- |
| | On Sep.24, 2005, Cui Jian held his concert in Beijing Capital Stadium, which was his first concert in this stadium in the last 12 years. Cui Jian personally named the concert as "Dream in the Sun". He said, "It seems that all that's impossible to happen has happened thanks to those who still hold their dreams. This concert is dedicated to people who still stick to their dreams." The atmosphere of the whole concert was filled with extraordinary excitement and zealousness. All the songs, from the opening song "Mr. Red" to the ending "A Piece of Red Cloth" and "Nothing Do I Have", wan enthusiastic applause and acclaim from all the audience. | |
• On Aug.6, 2005, the celebration on the 3rd Anniversary of Cui Jian-launched Sing by Yourself Movement got underway in Fenghuayuan Auto-cinema in Beijing. In the hails of various media and audience, Cui Jian announced that it symbolized a staggered victory of the movement that the newly modified Managing Ornament of Performance Business enacts withdrawal of licence as punishment on deceptive singing in commercial performances. After that, Cui Jian sang some of his songs, including "Mr Red", "Fly Away", "Egg below the Red Flag" and "Beijing Story". There were many other famous bands and singers who gave excellent performances that night, including Gao Qi, Jiang Xin, Shuimunianhua & Manyan, Xie Tianxiao & Cold-Blooded Animal, Yan, AK47, Lonely Summer Days, Hang On the Box, Ensconce and Verse.(Photo by liuge)
• On Jul.31, 2005, Cui Jian and his band attended the "Gegentala Plain Carnival" hosted on Gegentala Plain in Siziwang Flag in Inner-Mongolia. There were another over twenty first-rank bands in the field of China's Rock that took part in the fete, which included Dou Wei & Unnecessarily, Second-Handed Rose, Muma, Brain Feather, Painful Faith, Voice & Toy.(Photo by Wangzebin)
• On Jul.29, 2005, Cui Jian and his band attended the great performance of "Carnivalesque Party of 1 VS 120,000" hosted in Beihai, Guangxi.
• On Jul.16, 2005, Cui Jian and his band attended the great show of "Fashion Storm — Verse of Global Exhibition" hosted in Kunming, Yunnan. In the passionate hails of the fans in Kunming, Cuijian extemporized "Mr Red", "Let Me Be Crazy On The Snow", "Fly Away", "Soul of Great Wall", "Nanniwan" and "Over That Day".(Photo by Wangzebin)
• On Jul.1, 2005, Cui Jian and his band attended the "Great Concert on the 60th Anniversary of the Victory of World Anti-Fascist War". Other bands attending the concert were Zheng Jun and his band, Tang Dynasty, Huang Guanzhong and Sweat, Second-Handed Rose, Gao Qi and Overload, etc. As the last one to perform, Cui Jian's band enjoyed the overwhelming applaud of the audience, which exalted the atmosphere of the concert to the zenith.
• Special Concert of Cui Jian in Wuhan, Jun.3, 2005, Hongshan Gym, Wuhan
On the night of Jun.3, the special concert of Cui Jian was hosted in Hongshan Gymnasium in Wuhan. The concert, which followed his brand new album "Give You A Color", was his first concert in the last six years. In the concert, Cui Jian extemporized around twenty pieces of various periods, including "Nothing Do I Have", "Rock'n'Roll on the New Long March", "Girl in Greenhouse", "Mr Red". The passionate performance of Cui Jian evoked the enthusiasm of all the audience. At the end of the concert, because of the unrefusable enthusiasm, the band had to make the curtain call for twice.(Photo by liuge)
29th May, .8:30AM - Cuijian's solo concert and press conference at Hongyi Hotel, Wuhan

29th May, 10:00AM - Cuijian's visit to the university, Main Hall, University of Wuhan

29th May, .2:00PM - Autograph and sales session of Cuijian's new album titled "Show You Color", at Zhong Bai Chang Chu中百仓储, Youyi Lu of Hankou
• Cuijian and Wanglei had participated in the performance organised in conjunction with DaShan Zi Art Festival with two other sound designers on the evening of 14th May 2005. The live stereo performance combining both audio and visual effects took place at Run Club, Dashan Zi 798 Factory Area, at 9:00pm.
• Cuijian's new album entitled"Show You Colour", has two cover designs. You can choose the album to whichever color you like better.
• Cuijian's fifth individual album titled "Show You Colour" distributed by Jingwen Records, has been released nationwide on 28th March 2005. The new album is divided into three main themes represented by three colors, which are red, yellow and blue. Red symbolizes the heart (inner feelings), blue symbolizes intelligence and yellow symbolizes love. This album includes various genres of music, such as Pop, Rock, Techno, Hip-hop, etc.(Photo by Songxiaohui)
| | | | |
| --- | --- | --- | --- |
| | FLASH MV < Mr.Red > | | FLASH MV < Net virgin > |
• Cuijian's "Show You Colour" new album premier release and press conference was held at Beijing Changfu Hotel. It was attended voluntarily by some 200 journalists / media reporters on the 29th. March 2005. Cuijian took the opportunity to answer questions from the media based on his new album.(Photo by Wangzebin)

• The autograph and sales session of Cuijian's new album entitled "Show You Colour" was held at Level 1 of Beijing Xidan Bookstore, on 16th April 2005 at 2pm. Throughout Cuijian's 20 years of musical journey, this was one of the very few and rare autograph sessions with his fans. Hundreds of Cuijian's fans, many of them middle aged and from the provinces, were queuing in line for several hours just to get a face-to-face meeting with their idol. According to them, they have been listening to Cujian's songs for almost 20 years and they still continue to enjoy listening to his music. Many fans came with their various collections of Cuijian's albums over the years, seeking for his autograph.(Photo by Wangzebin)

• On 10th December, 2004, Cuijian and his band performed live at the new Get Lucky Bar, Beijing. The TV Program of "Weishi Xianfeng a.k.a Satelite Premier" from Travel Channel covered and aired the event on 31st December at 8pm.(Photo by Songxiaohui)

• On 10th October, 2004, in the first event of "The Sound of Asia – The Cultural Festival of Science and Technology in Sound Recording", Cuijian was awarded the Best Rock Music Recording Award by the juries with his work titled "The Story of a Small Town".

• On 26th September, 2004, Cuijian was awarded the "World Peace Musical Award" in San Francisco, USA. This award encouraged and acknowledged the contributions of Best Musicians in promoting world peace through their works and their achievements in the music industry.

• On 21st August, 2004, more than four thousands of Cuijian's fans gathered under one roof to enjoy a fun evening full of live and astonishing rock music performed none other by their favorite artist, Cuijian in "Taike + Jiahui, Cuijian's Changzhi Concert 2004" organized at Shanxi province Changzhi Huaihai Indoor Stadium.(Photo by Wangchao)

• On 8th August, 2004, Cuijian and his band participated in a big musical festival titled "The Brightly Path of Chinese Rock" on Mount Helan of Yinchuan in Ninxia.

• On 6th August, 2004, the 2nd anniversary celebration of Anti-Lip-sync Campaign was held at Fenghua Yuan Outdoor Car Cinema. The bands participated in the event were Cuijian and his band, Brain Failure band,Yaksa band, sand band, bingyong band, wanxiaoli band, meihaoyaodian band, longmenzhen band.

• May 15, 2004 - SHENYANG
Cui Jian Band LIVE! @ Liaoning Arena


• DEEP PURPLE vs. CUI JIAN ~ 2004 China
March 31 Beijing - April 2 Shanghai - April 4 Guangzhou

• Cui Jian LIVE! ~ 2004 Germany

•On December 24, Christmas Even of 2003, Cui Jian will perform on the front square of Dongcheng Culture Center of Dongguan, Guangdong Province.

• Cui Jian's new album The Village Attacks The City is almost here!

• March 6th, 2003 - Beijing Kunlun Hotel
Rolling Stones "FORTY LICKS" Tour Press Conference
Cui Jian to open for Stones' Beijing show.

• January 18th, 2003 - SINGAPORE
Cui Jian Band LIVE!

• August 17-18, 2002 - LIJIANG (Yunnan)



Cui Jian Band LIVE! Festival Concept and Art Direction by Cui Jian
• 08.10.2002 Beijing Music Radio FM 97.4 (Beijing) Interview: Snow Mountain Music Festival


audio
•
08.19.2002 KQED (San Francisco) Live From Yunnan (English)


audio
•
Listen to Cui Jian's SNOW MOUNTAIN Theme Song

audio

• Explain this fresh new version of NOTHING TO MY NAME

????
Tell me where on Earth this recording came from and win a ticket for something....

•June 2 , 2002 - PUSAN (Korea)
Cui Jian Band LIVE! at Pusan Rock Festival
•March 29-30, 2002 - CHONGQING
Cui Jian Band LIVE! at Reincarnation Disco Pub

•March 9, 2002 - ATLANTIC CITY & NEW YORK CITY (USA)
Cui Jian Band LIVE! at Joe's Pub


•March 1-2, 2002 - SEOUL (Korea)
Cui Jian Band LIVE!

•February 14-15, 2002 - TIANJIN
Cui Jian Band LIVE! at Tianjin Sports Center
video 1.30MB


•February 5, 2002 - YANBIAN
Cui Jian Band LIVE! on Yanbian TV

•Cui Jian Band LIVE! pictures

•October 29-November 6, 2001 - PHENOM PENH (Cambodia)
Cui Jian ventures south

•October 27, 2001 - LANGFANG
Cui Jian Band LIVE!


•September 28, 2001 - XIAN
•October 1, 2001 - SHILIN
Cui Jian Band LIVE!

•July 2001 - EUROPE (Italy, France, Germany, Switzerland)
Cui Jian Band LIVE! - 7 shows photos by kemaxiu

•February 2001 - HONG KONG
Cui Jian premieres his first dance musical SHOW YOUR COLOURS

•Lunar New Year 2001 - EUROPE (France, Netherlands, and Switzerland)
Cui Jian Band LIVE! - 4 shows • Cui Jian delivers his second on-screen performance in Roots and Branches.
Roots and Branches
Roots and Branches is the story of 2 brothers and 2 sisters born in the Chinese countryside during the 1960's. The children are separated early when their mother and father die prematurely. Roots and Branches traces the paths of their lives. Cui Jian plays the role of their father who is a music teacher.
Directed by Yu Zhong (Hong Kong).
Release date: June 9, 2001.

• December 12, 2000 - Cui Jian receives The Prince Claus Award.
The Prince Claus Awards are presented annually to artists and intellectuals based in Africa, Asia, Latin America and the Caribbean, or to artists and intellectuals in the Diaspora whose work primarily contributes to cultural developments in the above-mentioned continents. The quality of the artistic, academic or critical work of a laureate is a sine qua non. The decisive factor, however, for an award is 'surplus value': the positive effects of a laureate's work in the cultural or the wider social field. In addition, the Committee admires a certain degree of audacity, tenacity and recalcitrance. The Prince Claus Awards recognise artistic and intellectual qualities that are alive today. The aim of the awards is to support experiment, to legitimise, to increase impact and to inspire others.

• September 8, 2000 - Cui Jian his band performed "Flown" at the Anti-Piracy Concert held at Worker's Stadium in Beijing. It was his first large-venue performance in the capital in 7 years. Below are some photos from the show.
• July 22, 2000 - Cui Jian and Tian Zhen performed to a sold-out crowd at the Shenzhen Municipal Arena. Here are some photos of the show.
photos by Wang Jingchun
• Cui Jian attended the Cannes Film Festival for the world premiere of "Devils On The Doorstep" the latest film by Chinese director, Jiang Wen. The movie's soundtrack was composed by Cui Jian, Liu Xing, and Li Haiying. The film is due for release in July 2000. Click here for an introduction to the movie.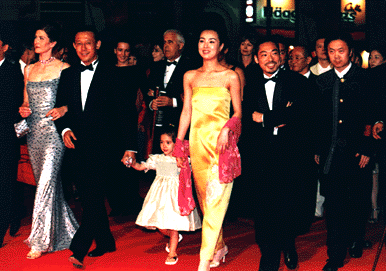 • Recently Hunan TV broadcast a special performance by Cui Jian from their studios in Changsha. The concert was the first to be broadcast in China in over 10 years and was estimated to have been viewed by 20-30 million people. Click here to view the program's promotional trailer.
• New photos from Cui Jian's February 2000 show in Taiyuan. Click on the thumbnails to enlarge.