Album Works
¡¶ROCK¡¯N¡¯ROLL ON THE NEW LONG MARCH¡·
Published in 1989
Second edition issued in 1999

¡¶SOLUTION¡·

Published in 1991
Second edition issued in 2005

¡¶BALLS UNDER THE RED FLAG¡·
Published in 1994
Second edition issued in 2005

¡¶THE POWER OF THE POWERLESS¡·
Published in 1998

¡¶SHOW YOU COLOUR¡·

Published in 2005

¡¶Frozen Light¡·

Published in 2015
Other works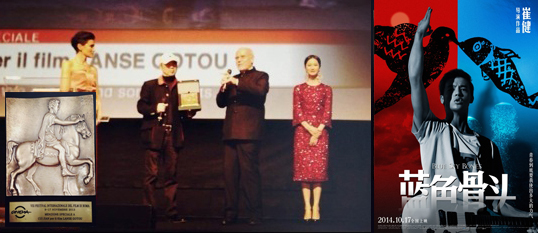 Cui Jian's directorial debut, "Blue Sky Bones," opens on screens across the country Oct. 17, 2014!

Synopsis of the story:
Blue Sky Bones tells the story of a young underground rock musician in Beijing, who falls for an unknown singer and at the same time rediscovers his own parents' bittersweet love story.

On Nov. 16, at the 8th Rome Film Festival¡¯s awards ceremony, the jury gave Special Mention to Cui Jian¡¯s debut directorial feature ¡°Blue Sky Bones¡±.
Cui Jian¡¯s directorial debut, ¡°Blue Sky Bones,¡± is the surprise winner at the Directors¡¯ Awards Ceremony
8-18-2014 Cui Jian's directorial debut, "Blue Sky Bones," was a favorite at the 10th Jecheon International Music & Film Festival, earning the Special Jury Prize!
10-31-2015 Cui Jian is awarded¡°Best New Director¡± at the 15th Annual Chinese Film Media Awards!

"Chengdu, I Love You" was invited to be shown in Venice Film Festival as the festival's closing film. Cui Jian, as one of three directors of this movie, will attend the closing ceremony on September 12.

Synopsis of the story:
Chengdu, an exciting city.
Countless emotion of people and their fate blend and impact in space-time of the city.
Emotional attachment, friendship and love, they write their stories on their own tracks respectively.
When a sudden disaster struck the city, everything is facing with a new twist.
How will their stories be changed£¿
Where will their fate move toward?

January 2006, Cui Jian's first film "An age of hymen repair", a 7 minutes short film in two parts, premiered in Beijing. In the premiere ceremony, Cui Jian explained: "I want to do powerful work. I hope my work can wake up people or change the way of people¡¯s living that people get used to turn a blind eye to the stereotype in their numbing lives."
Click to watch the film
In "Devils on the Doorstep", a film directed and shot by Jiang Wen who has won
international award for this movie in 2001, Cui Jian completed the production of
the music part in the movie by an unique means of music expression.
.

...The combination of rock as an art form with constantly innovation and other art form, breathed new life into artistic expression of rock.
.. February 2001, Cui Jian and Hong Kong Modern Ensemble of Songs and Dances performed "Show you colour" jointly in Modern Art Festival of Hong Kong. Cui Jian said: There are three states in the process of life which can be performed by three colour; and these three colour represent three form in the current music scene, namely pop, rock and electronic music.
February 2002, Cui Jian performed in the role of the father who is a music teacher in film
"My brothers and sisters" in Harbin. ¡£