CUI JIAN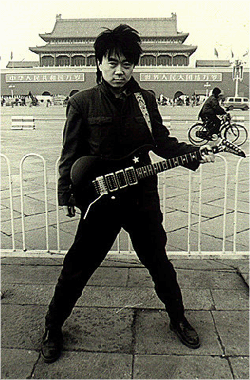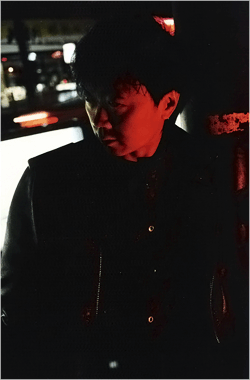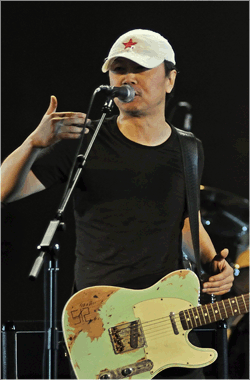 When I die, I don't want to pass away quietly in the comfort of my home. I want to die on the stage. For a singer, the stage is his battleground, and he longs to die on that field of battle.
Even as Chinese pop wanes, rock has existed and endured in this country for over twenty years. Looking back, it's almost as though Chinese rock sprang up overnight, and in that one night we saw every style and subgenre of rock explode into being. On one night alone, popular music in China found its true revolutionary voice.
We still remember that electric night in 1986 at the Beijing Worker's Stadium: Cui Jian, wearing his Qing-style jacket, guitar slung over his shoulder, playing "Nothing to My Name" and ushering in a new age of rock n roll. This is the godfather of Chinese rock. Even now, with half a century behind him, the pioneer of rock is still at its vanguard, singing live concerts and leading us forward on Rock n Roll's New Long March.
When Cui Jian announced the birth of Chinese rock in 1986 with "Nothing to My Name," it marked a sea change in Chinese music. Rock embodied the changing ideologies and subconscious desires of a newly-opened China. Cui Jian grasped this revolutionary new sound and used it to inspire the youth of a generation. Since then, his influence has only continued to grow. Cui Jian's unique brand of rock has dominated the last 20 years of music in China.
Cui Jian was born into an ethnic Korean family with parents who were both artists. At age 14, Cui Jian took up the trumpet after his father, and in 1981 he was invited to join the Beijing Philharmonic, thus beginning his musical career. During his six years playing with the Beijing Philharmonic, Cui Jian began writing some of his own songs. He formed a band with six other musicians called the "Seven-Player Band," one of the first of its kind in China. In 1986, he wrote his first ever rock song, "It's Not That I Don't Understand."
Later that year, the International Year of Peace concert was held in Beijing. When Cui Jian stepped onto the stage wearing Qing period dress, one pant-leg rolled up, and a worn-out guitar slung across his back, the audience didn't know what to make of him. Then he began to perform. As the lyrics floated out from the stage—"I used to always ask you / when you'd run away with me"—the crowd fell silent. Ten minutes later, as the music faded away, amidst raucous cheers and applause, China's first rock star was born!