from Yahoo! http://sg.news.yahoo.com/reuters/asia-120978.html

Sunday August 18, 10:44 PM
Thousands flock to "China's Woodstock"

YUNNAN (Reuters) - Thousands of rock fans flocked to Yunnan province on Saturday for a two-day music festival - dubbed China's Woodstock - to hear scores of bands from across the country perform.

Cui Jian, known as the father of Chinese rock, Dou Wei, Sun Nan and Zhu Zheqin were among the mainland stars scheduled to play at the Snow Mountain Music Festival in scenic Lijiang city.

Tickets for the event cost 180 yuan for the first day, 150 yuan for the second day and 280 for both.

Western-style rock, pop and dance music has become increasingly popular in China, but local bands are largely confined to small bars, nightclubs and alternative venues such as this one.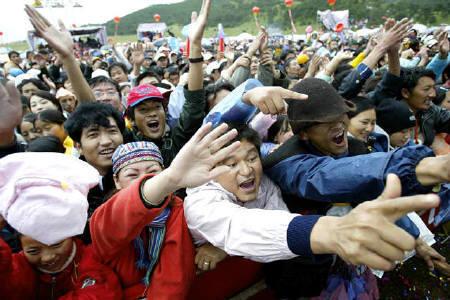 REUTERS/China Photo