Saturday, August 17, 2002
Hills will rock at 'Woodstock in Yunnan'
AGENCE FRANCE-PRESSE

--------------------------------------------------------------------------------

Preparations were well under way yesterday for China's first outdoor rock festival - dubbed the "Chinese Woodstock" - taking place this weekend in the mountainous southwest.
Organisers hope up to 10,000 fans will trek to the Snow Mountain Music Festival in Lijiang, a scenic region in Yunnan province.

For two days, the hillsides will echo to the sound of guitars and drums, with China's premier rock artist, Cui Jian, on the bill along with other mainland pop and rock stars, including Dou Wei, Sun Nan and Zhu Zheqin
The event illustrates that Chinese rock music, though still often frowned upon in official circles, is thriving among the young.
It is also being billed as the world's highest rock festival, taking place several thousand metres up the 5,596-metre Jade Dragon Snow Mountain, about 35km north of Lijiang.
"We are getting ready to rock . . . More and more people are coming in and ticket sales are going well," said organiser Song Jie. "We expect up to 10,000 fans."
Despite the optimism, ticket prices were cut by 50 per cent on Thursday, with a two-day pass selling for 140 yuan (HK$130) - still expensive for most Chinese, especially when the cost of travelling to Lijiang is taken into consideration.
A remote area just to the east of the Tibetan plateau, Lijiang is well known for its strong indigenous musical culture among the Naxi ethnic population.
Naxi music, known as dongba, is known around China for its close ties to the local religion and has been used to exorcise demons and scare away ghosts for centuries, promoters say.
As a result, local musicians are less than keen on the festival - and the kinds of fans it is expected to attract.
"Lijiang is a place where we preserve traditional music and Jade Dragon Mountain is a beautiful place with a beautiful environment, natural silence and clean air," said Xuan Ke, a renowned music expert at the Naxi Music Academy.
"I don't think that it is such a good idea to bring this loud rock music here. Chinese rock musicians are not ready or mature enough to bring the quality of traditional Chinese music into their modern rock."
Mr Xuan, 73, was jailed for more than a decade during the Cultural Revolution, giving him something in common with China's rockers. Cui's music has been banned on and off throughout his almost 20-year career.
"It's not that we oppose this festival," said He Guimei, also from the Naxi Music Academy.
"It's just that we are not supporting it."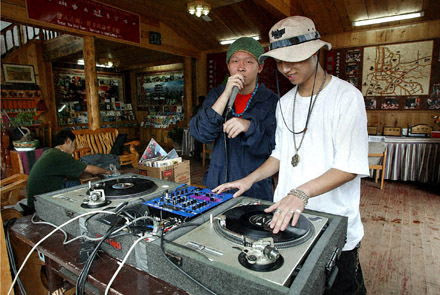 DJs experiment with dongba music of the Naxi ethnic group in Lijiang, where custodians of local tradition have mixed feelings about the rock invasion. Agence France-Presse photo